Datum: 10. Juni 2019 10:56
Valeo and Sachs have been OEM.
As Funman said, you have to buy the make who fitts.
Therefore order only a clutch- set according to your VIN- Nr.
The compatibility of older and newer types is not guaranteed because i.e. the
engagement fork and engage bearing (item 484 )have been changed...
(Even the shaft bushing(item 18) did not exist in older models.)
If your mec. wants to do a great job, he should also change the sealrings (it. 456) and sealring it.30.
It. 456 is not available from mercedes but from Corteco 12013928B.
For a perfect job he would change also the pilot bearing inside the flywheel,
but this is really difficult to get...
In my Kutter works an 30 years old Valeo clutch without any problems.
___________________________________________________________________
Grüße
Blacky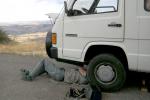 "KUTTER fahren ist nicht normal"
MB100 lang/hoch/alt(3/89)EURA-Ausbau 1.Motor generalüberholt//ca.383Tkm
Kapitän und Maschinist seit 1999 mit Beiboot Suzi DR350
R100CS die Q in alter Frische
Yamaha XS1100 zum ertüchtigen in jeder Beziehung
KUTTERFAHREN- der "entschleunigte" Fahrspass
Schraubst du noch, oder fährst du schon?
"Wagen mit dem Silberstern sehn die meisten Schrauber gern"
- stimmt beim Kutter leider nicht