Datum: 10. November 2018 20:57
Hi Roger,
Quote
my engine overheats going up hill

how did you get that information? Temperatur gauge?
Temperature problems may have several causes.
- lack of coolant, radiator leakage
- cooling fan failure (viscoclutch)
- water pump failure
- thermostat failure
- loss of coolant as result of cracks of cyl.headgasket or cylinderhead,
(crack in motor block is rather unlikely)
diagnose of cracks- motoroil in coolant or gases from combustion in coolant which can be detected with an indicator fluid.
The most simple method to find out if combustion gases enters coolant is
to watch the radiator filler neck.
I once made the following procedure:
- fill the radiator completly with water
- start the engine and increase idle (second person)
- watch for a while, if there come air bubbles out, fill up with water.
- if after maybe 5 minutes still air bubbles come out you might have a bigger
problem...
Another method is to put pressure on the radiator, if the pressure drops
there is a leakage somewhere.
When you start the cold engine, does it start immedately all cylinders?
When motor is hot; any unusual visible combustion gases, steam etc.?
___________________________________________________________________
Grüße
Blacky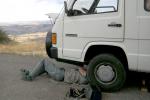 "KUTTER fahren ist nicht normal"
MB100 lang/hoch/alt(3/89)EURA-Ausbau 1.Motor generalüberholt//ca.383Tkm
Kapitän und Maschinist seit 1999 mit Beiboot Suzi DR350
R100CS die Q in alter Frische
Yamaha XS1100 zum ertüchtigen in jeder Beziehung
KUTTERFAHREN- der "entschleunigte" Fahrspass
Schraubst du noch, oder fährst du schon?